Calculator Workshop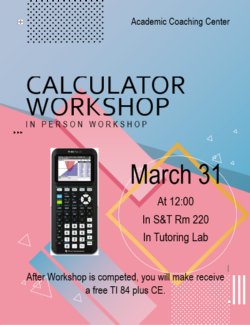 What

Calculator Workshop

When

3/31/2022, 12:00 PM

–

1:00 PM

Where

Tutoring Lab S&T Room 220
Great news!! There have been plenty of students who have come into the Coaching Center borrowing calculators for their classes!! Now you can earn your very own!!

Please join us for this workshop March 31, 2022 for your opportunity to receive a free TI -84 plus Calculator.

This workshop will be built to assist in using your calculator for Math and other scientific functions. If you currently have a scientific calculator and need assistance, we can assist with that as well.

**Please bring a copy of your school class schedule as verification that you are currently enrolled. IF the amount of students who attend this workshop exceed the number of calculators, we will go ahead and prioritize those students who are in a Math/Science course or degree and will work towards getting more ordered for the rest of attendees.

Thank you for your understanding and we look forward to seeing you during this workshop.
Copy to Google Calendar
•
Download iCal Event